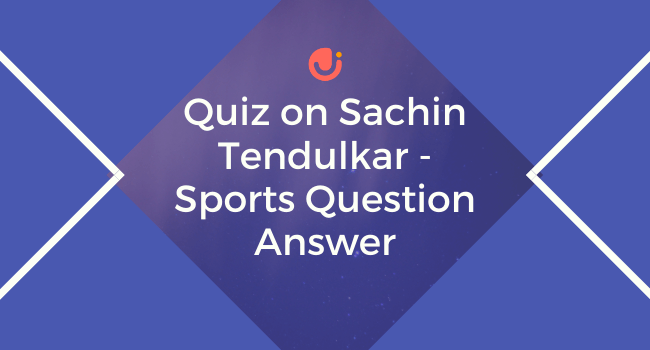 Let's play Quiz on Sachin Tendulkar, it is very simple MCQ quiz on cricketer Sachin Tendulkar choose the answer option and press on finish you will be get result.
#1.

In which year Sachin was named the Wisden Cricketer of the Year?
#2.

Which one of the following players did Sachin Tendulkar dismiss the most as a bowler?
#3.

Sachin has led India in 25 Tests as Captain. How many Tests did India win under Tendulkar's captaincy?
#4.

What was the highest test score by Sachin Tendulkar in an innings?
#5.

When Sachin Tendulkar got married to Anjali?
#6.

The number of Wickets taken by Sachin Tendulkar in ODI cricket is
#7.

How many times Sachin played in the World Cup for India?
#8.

Sachin Tendulkar made his first class debut playing for Mumbai against Gujarat. What was his age then?
#9.

What is the title of the autobiography of Sachin Tendulkar?
#10.

How many ODI matches did Sachin play in his career?
#11.

What was the name of Sachin Tendulkar's coach?
#12.

What was the name of Sachin Tendulkar's coach?
#13.

Against which country, Sachin Tendulkar scored his first test century?
#14.

When did Sachin Tendulkar receive "Arjuna Award"?
#15.

Sachin Tendulkar is the youngest recipient of Bharat Ratna till date and also the first ever sportsman to receive the honour. Which year he was honoured with Bharat Ratna?
#16.

Against which team did Sachin Tendulkar score his first ODI double century?
#17.

How many triple centuries did Sachin Tendulkar score?
#18.

Who has the distinction of being Tendulkar's first wicket in international cricket?
#19.

As a bowler, Tendulkar claimed five wickets in a ODI match twice. The venue was the same on both occasions. Where did he achieve this feat?
#20.

Ajit Tendulkar, brother of Sachin Tendulkar, has written a book about Sachin. What is the title of the book?