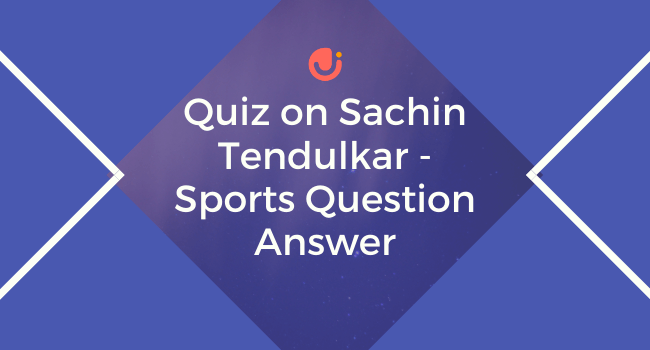 Let's play a Quiz on Sachin Tendulkar, it is a very simple MCQ quiz on cricketer Sachin Tendulkar choose the answer option and press on the finish button you will get a result.
Question 1: In which year Sachin was named the Wisden Cricketer of the Year?
(A) 1994
(B) 1997
(C) 2001
(D) 1998
Question 2: Which one of the following players did Sachin Tendulkar dismiss the most as a bowler?
(A) Inzamam-ul-Haq
(B) Moin Khan
(C) Steve Waugh
(D) Roshan Mahanama
Question 3: Sachin has led India in 25 Tests as Captain. How many Tests did India win under Tendulkar's captaincy?
(A) 9
(B) 18
(C) 22
(D) 4
Question 4: What was the highest test score by Sachin Tendulkar in an innings?
(A) 232
(B) 298
(C) 248
(D) 203
Question 5: When did Sachin Tendulkar got married to Anjali?
(A) 24 April, 1995
(B) 24 May, 1995
(C) 24 March, 1995
(D) 24 June, 1995
Question 6: The number of Wickets taken by Sachin Tendulkar in ODI cricket is _____?
(A) 161
(B) 120
(C) 135
(D) 154
Question 7: How many times has Sachin played in the World Cup for India?
(A) 3
(B) 5
(C) 6
(D) 4
Question 8: Sachin Tendulkar made his first-class debut playing for Mumbai against Gujarat. What was his age then?
(A) 14
(B) 15
(C) 16
(D) 17
Question 9: In which year Sachin was named the Wisden Cricketer of the Year?
(A) 1994
(B) 1997
(C) 2001
(D) 1998
Question 9: What is the title of the autobiography of Sachin Tendulkar?
(A) Master Laster
(B) Playing it My Way
(C) Chase Your Dreams
(D) Little Master
Question 10: How many ODI matches did Sachin play in his career?
(A) 436
(B) 476
(C) 405
(D) 463
Question 11: What was the name of Sachin Tendulkar's coach?
(A) Rahul Sinha
(B) Dilip Sardesai
(C) Ramakanth Achrekar
(D) None of the above
Question 12: Against which country, Sachin Tendulkar scored his first test century?
(A) Pakistan
(B) England
(C) New Zealand
(D) Australia
Question 13: When did Sachin Tendulkar receive "Arjuna Award"?
(A) 1992
(B) 1990
(C) 1997
(D) 1994
Question 14: Sachin Tendulkar is the youngest recipient of Bharat Ratna till date and also the first-ever sportsman to receive the honour. Which year he was honoured with Bharat Ratna?
(A) 2012
(B) 2013
(C) 2014
(D) 2015
Question 15: Against which team did Sachin Tendulkar score his first ODI double century?
(A) Bangladesh
(B) South Africa
(C) Australia
(D) Sri Lanka
Question 16: How many triple centuries did Sachin Tendulkar score?
(A) 1
(B) 2
(C) 4
(D) 0
Question 17: Who has the distinction of being Tendulkar's first wicket in international cricket?
(A) Steve Waugh
(B) Shohaib Akthar
(C) Roshan Mahanama
(D) Aravinda de Silva
Question 18: As a bowler, Tendulkar claimed five wickets in an ODI match twice. The venue was the same on both occasions. Where did he achieve this feat?
(A) Kolkata
(B) New Delhi
(C) London
(D) Kochi
Question 19: Ajit Tendulkar, brother of Sachin Tendulkar, has written a book about Sachin. What is the title of the book?
(A) Sach
(B) Hero
(C) The Making of a Cricketer
(D) Chase Your Dreams