(Online & Offline Study Center)
About Us
MATHSCI

EDUCATOR
The place of seeker
Complete Educational solution at one place with online or offline methodology.
Standard : 5th to 12th Science and Commerce.
Board : CBSE/GSEB/ICSE
Medium of coaching : English/Gujarati.
JEE/NEET Special Batch.
Limited seats in each classes.
8th – 20 students.
9th – 16 students.
10th – 14 students.
11-12th – 12 students only.
In the success of a students important role is played by the teachers hence, Mathsci Educator has one of the best faculty's' team as well as best study material prepared by them.
Main Branch : 205, Heny Arcade, Dabholigam BRTS, Katargam, Surat.
Branch 1 : 47, Radhekrishna Rowhouse, Near Botanical garden, Jahangirpur, Surat.
Contact : 7567520032 / 8980539388
Mr. Avnish Patel
Mr. Ravi Patel.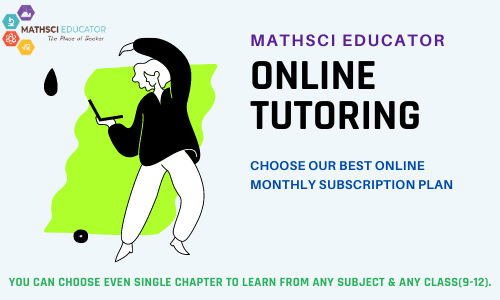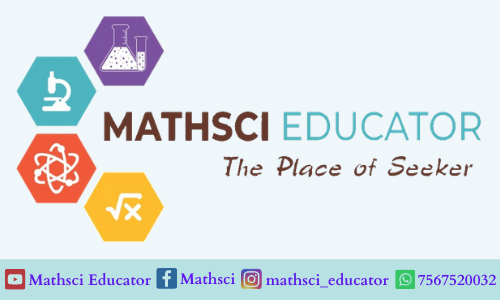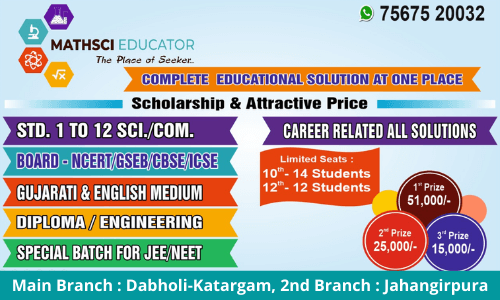 Check our Paid Online Live Video Class
Click Here for our Paid Online Live Video Class
JEE/NEET
Mathematics
Biology
Physics
Chemistry
Class 9 Mathematics (CBSE)
Available very soon
1. Ch.1
Class 9 Science (CBSE)
Available very soon
1. Ch.1
Class 9 Social Science (CBSE)
Chapter 1 French Revolution
Class 9 English (CBSE)
Available very soon
1. Ch.1
Class 10 Mathematics (CBSE)
Chapter 8 Introduction to Trigonometry
Class 10 Science (CBSE)
Available very Soon
1. Ch.1
Class 10 Social Science (CBSE)
Available very Soon
1. Ch.1
Class 10 English (CBSE)
Available very Soon
1. Ch.1
Class 10 Mathematics (Gujarati Medium)
પ્રકરણ 8 ત્રીકોણમિતી નો પરિચય
1. Ch.8 ત્રીકોણમિતી  ની પ્રસ્તાવના
2. Ch.8 Exercise 8.1, Question- 1,2
3. Ch.8 Exercise-8.1, Question-3,4
4. Ch.8 Exercise 8.1, Question- 5,6
5. Ch.8 Exercise 8.1, Question- 7
6. Ch.8 Exercise 8.1, Question- 8
7. Ch.8 Exercise 8.1, Question- 9
8. Ch.8 Exercise 8.1, Question- 10
9. Ch.8 Exercise 8.1, Question- 11
10. Ch.8 ત્રિકોણમિતિય ગુણોત્તરના વિશિષ્ટ ખુનાઓ
11. Ch.8 Exercise 8.2 Question-1 – (1,2 & 3)
12. Ch.8 Exercise 8.2 Question-1-(4 & 5)
13. Ch.8 Exercise 8.2 Question- 2
14. Ch.8 Exercise 8.2 Question- 3
15. Ch.8 Exercise 8.2 Question- 4
16. Ch.8 કોટિકોણના ત્રિકોણમિતિય ગુણોત્તરો
17. Ch.8 Exercise 8.3 Question-1-(3,4) & Question 2
18. Ch.8 Exercise 8.3 Question-3 & 4
19. Ch.8 Exercise 8.3 Question-5,6 & 7
20.Ch.8 ત્રિકોણમિતીય નિત્યસમ
21. Ch.8 Exercise 8.4 Question-1 & 2
22. Ch.8 Exercise 8.4 Question-3 & 4
23. Ch.8 Exercise 8.4 Question-5-(1 & 2)
24. Ch.8 Exercise 8.4 Question-5-(3)
25. Ch.8 Exercise 8.4 Question-5-(4 & 5)
26. Ch.8 Exercise 8.4 Question-5-(6 & 7)
Class 10 Science (
Gujarati Medium
)
પ્રકરણ 10 પ્રકાશ : પરાવર્તન અને વક્રીભવન
Class 10 Social Science (
Gujarati Medium
)
Available very Soon
1. Ch.1
Class 10 English (
Gujarati Medium
)
Available very Soon
1. Ch.1
Class 11 Sci. Mathematics(NCERT)
Available Very Soon
1. Ch.1

Class 11 Sci. Biology
(NCERT)
Available Very Soon
1. Ch.1
Class 11 Sci. Physics
(NCERT)
Available Very Soon
1. Ch.1

Class 11 Sci. Chemistry
(NCERT)
Available Very Soon
1. Ch.1

Class 12 Sci. Mathematics
(NCERT)
Chapter 5 Continuity and Differentiability
Class 12 Sci. Biology
(NCERT)
Chapter 11 Biotechnology : Principles and Processes
Chapter 12 Biotechnology and its Application
Class 12 Sci. Physics
(NCERT)
Class 12 Sci. Chemistry(NCERT)
Available Very Soon
1. Ch.1