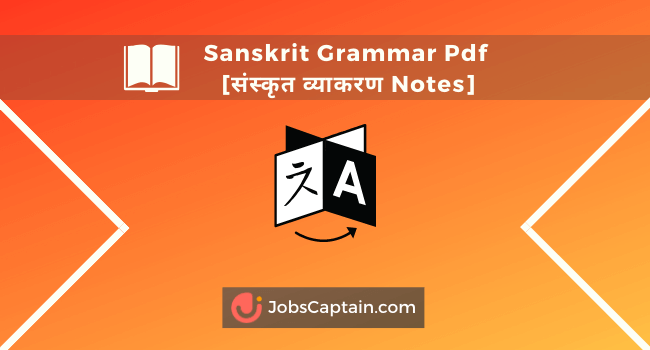 Sanskrit Grammar PDF for Competitive Exams
Download here all important Sanskrit Vyakaran Notes PDF, It will be very useful for you to prepare for various examinations. You can download very easily through the Download Button.
Learn Sanskrit Grammar Step by Step!
Sanskrit Grammar Notes Pdf [व्याकरण प्रवेशिका ]- Download
PDF संस्कृत Notes  Part I – Download
PDF part of Sanskrit Notes – II सरल संस्कृत – Download
HTET Sanskrit Grammer PDF by Shiv Kumar Shastri – Download
Sanskrit Education System संस्कृत शिक्षा विधि – Download
PDF of Sanskrit Notes for UGC Net Exam – Download
Sanskrit Handwritten PDF Notes
Hand Written Sanskrit Grammar PDF Part One [TET के लिए संस्कृत] – Download
Sanskrit Grammar Hand Written PDF Part Two SANSKRIT TET CTET – Download
Shriram Coaching Handwritten Sanskrit Notes PDF – Download PDF
NCERT Sanskrit Books
Download and Read Class 6 to 12 NCERT Sanskrit Textbooks.
We hope you found this article useful and it helped in answering your questions on Sanskrit Grammar. If you have any queries, please feel free to write in a comment below!
Also Read: