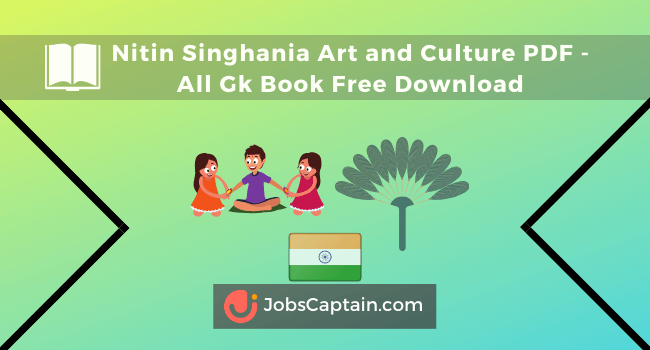 Hello Candidate, Today we will going to share study notes pdf of IAS Nitin Singhania in Hindi and English.
Nitin Singhania PDF covers the syllabus of Indian Heritage and Culture for General Studies Paper I and is a must read for UPSC Aspirants.
As you all know Mr. Nitin Singhania secure 51st rank in the IAS Examination. Nitin Singhania wrote some notes which are very useful for UPSC or IAS examination.
Here we provided all notes given by the Nitin Singhania.
Let's start with the most important book Art and Culture by Nitin Singhania.
Art and Culture of India – Nitin Singhania
Share book for the needy aspirants Indian Culture by Nitin Singhania. Art & Culture has very high weightage in both Prelims & Mains exam. You can download this awesome book by below link.
Indian Art and Culture Hindi Book by Nitin Singhania – Download (DMCA Removed)
Check Price on Amazon
Above book of Mr. Nitin Singhania removed because of the Digital Millennium Copyright Act (DMCA) from McGraw Hill Education Publication. We respect original creator, credit should go to creator. You can Buy online Indian Art and Culture Book by Nitin Singhania from Amazon or Flipcart.
But you can download below books free of Cost.
Handwritten Notes Pdf of Nitin Singhania
Mr. Nitin Singhania's handwritten notes are very important for UPSC/IAS examination. You should download and read below 5 handwritten pdf books for better result in competitive exam.
Nitin Singhania Handwritten Notes Insights File 1 – Download
Art and Culture Handwritten Notes File 2 – Download
Nitin Singhania Art and Culture File 3 – Download
Art and Culture Handwritten Notes by Nitin Singhania File 4 – Download
Nitin Singhania Handwritten Notes Insights File 5 – Download
Art and Culture Handwritten Hindi Notes File 6 – Download
Disclaimer:
Above all Nitin Singhania Book Pdf in Hindi and English featured here are free and not hosted or created by our website. Here Each and Every PDF is provided for Free and should be used for Education purposes only.
If you feel that your copyrights have been violated, then please contact us on [email protected] Thank You.
Nitin Singhania Book Content Insights
Section-A — VISUAL ARTS
Indian Architecture, Sculpture and Pottery
Indian Paintings
Handicrafts of India
UNESCO'S List of Tangible Heritage Sites in India
Section-B — PERFORMING ARTS
Indian Music
Dance Forms of India
Indian Theatre
Indian Puppetry
Circus of India
UNESCO'S List of Intangible Cultural Heritage
Section-C — CULTURE OF INDIA
Languages In India
Religions In India
Indian Literature
Schools of Philosophy
Indian Cinema
Science and Technology Through the Age
Calendars In India
Fairs and Festivals of India
Awards and Honours
Law and Culture
Martial Art in India
Cultural Institutions in India
Section-D — APPENDICES
Delhi – A City of Seven Sisters
Bhakti and Sufi Movement
Famous Personalities of India
Places of Cultural Interest
Moreover, All kinds of important Pdf notes and around 10,00,000 questions and complete General Knowledge Material can be found here. Subject wise Download Links for Handwritten Class Notes and Quizzes in Hindi and English.
Subject Wise Study Notes and Quizzes 
| | |
| --- | --- |
| Computer Awareness Notes – Open | General Hindi Notes – Open |
| Reasoning Notes – Open | English Grammar Notes – Open |
| Maths Notes – Open | Economics Notes – Open |
| General Science Notes – Open | Indian Polity Notes – Open |
| History Notes – Open | Today History in Hindi – Open |
| Environment GK Notes – Open | Banking GK in Hindi – Click |
| Geography Notes – Open | Computer Gk in Hindi – Open |
| JEE and NEET Notes – Open | Class 11 & 12 Science – Open |
| English Grammar Quizzes – Play Now | General Knowledge Quiz – Play Now |
Disclaimer: All information's / materials available on this website or the links provided on the site are for educational and study purposes only. We provide the links which is already available on the internet. The content is meant for individual and non-commercial uses only. We don't want to violate any copyright law. These Pdf Notes provided for students who are financially troubled but deserving to learn. Thank you!
Thank you for reading. Truly above all pdf books by Nitin Singhania are very helpful for IAS or UPSC all examination. Please share with your friends.