CodeLab7
Looking for Job in Surat? Are you Frontend or Shopify Developer?
Here's a  stunning opportunity for you in CodeLab7 IT company.
There are currently total 8 vacancies for below posts.
Frontend Developer
Shopify Developer
CodeLab7 is a creative team of specialized web developers and designers. They are dedicated to combining your ideas and their extensive web-based knowledge to create an exceptional website.
CodeLab7 takes an innovative approach in designing websites and have won awards for their design style. They will build an award-winning website for your business.
Frontend Developer
---
| | |
| --- | --- |
| Company Name | CodeLab7 |
| Post Name | Frontend Developer |
| Salary | As per Qualification and Experience |
| Total Vacancy | 4 |
| Skills Required | HTML, CSS, JavaScript, jQuery, Bootstrap |
| Job Location | Surat, Gujarat |
| Apply Fee | Null |
| Who Can Apply | Experienced and freshers both can apply |
Shopify Developer
---
Vacancy for Shopify Developer Job in CodeLab7, Surat.
| | |
| --- | --- |
| Company Name | CodeLab7 |
| Post Name | Shopify Developer |
| Salary | As per Qualification and Experience |
| Total Vacancy | 4 |
| Skills Required | HTML, CSS, JavaScript, Shopify Liquid |
| Job Location | Surat, Gujarat |
| Apply Fee | Null |
| Who Can Apply | Experienced and freshers both can apply |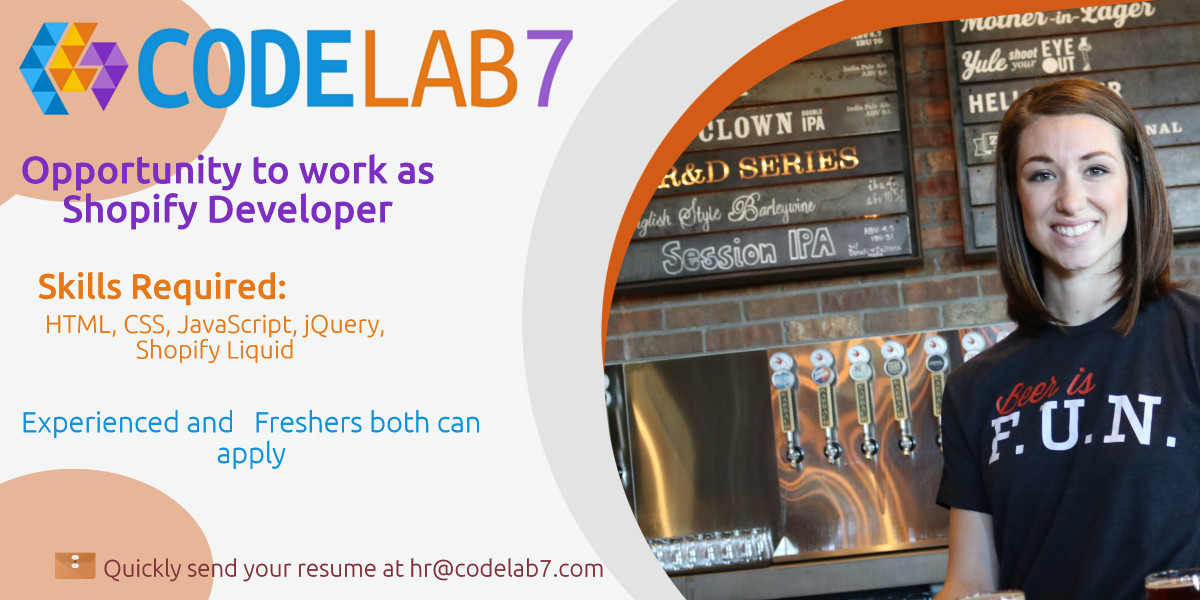 How to Apply?
---
To grab above opportunities send your resume on email id given below:
For Fresher
---
Freshers will be provided training for 3 months.
After training salary will be provided ranging from RS. 8,000 to RS. 10,000 per month.
A bond will be formed which will include training period and 1 year of your service for the company which
basically will be for 15 months (based on your training period).
Work Profile
---
Responsible for building screens to excite and delight users as they journey through our products.
Follow best practices, guidelines, and blueprints for the team
Participate in design and code reviews
Translate complex UX/UI design into detailed design and code
Convert Photo-shop designs into pixel-perfect, W3C standards-compliant HTML
Excellent knowledge of HTML5, CSS3, Responsive design, Bootstrap, jQuery JavaScript
Customize jQuery controls and components like Data Grids, Light Boxes, Transitions, Animations
Write media queries for high-end Responsive Websites with cross-device compatibility
Knowledge of modern design tools, including Photoshop, Illustrator, Sketch, etc.
Expert in any one of CSS frameworks like Bootstrap, Foundation, Materialize etc.
Proficient understanding of cross-browser compatibility issues and ways to work around them.
Good understanding of code versioning tools, such as Git, SVN.
Good interpersonal skills, communication skills, and ability to work independently
Company Details
---
CodeLab7
Email: [email protected]
You can find our location on map: Click Here
Job Profile: Frontend Developer and Shopify Developer
Good Luck!