Reliance Jio-Phone Launched, Plan, Price and Specifications
Made in India's Cheaper and Supper JioPhone Smartphone with attractive offers
All New Updates of JIO
Free of cost JioPhone will be available for pre-booking from August 24
Recharge only 153 Rs. You will get Unlimited Internet
Life Time Free call free from Jio Phone.
JioPhone supports 22 major Indian languages.
It is fully made in India Mobile Phone.
One time security deposit of Rs 1500 for every JioPhone will be charges. Refund for using JioPhone for 36 months.
Booking Starts in the month of August 2017 and You will get JioPhone in September 2017.
You can connect your JioPhone with your TV.
JioPhone will effectively cost Rs. 0.
JioPhone will have TV cable for casting programs on any TV set
JioPhone will have free voice services, it will enable internet access:
Isha and Akash Ambani launch JioPhone, a 4G feature phone.
An entry level smartphone costs around Rs 3000-Rs 4500. To bridge digital divide Jio will provide 'Jio Phone', an intelligent smartphone:
Jio to ingrate with all major e-commerce majors. We will have 10,000 Jio offices in all parts of India by September:
Because of Jio, India's 4G coverage will be more than 2G coverage
Jio is 4G network leader in coverage, speed, and connectivity. In the 12 months Jio will cover 99% of India's population:
 Ambani  Kokilaben Ambani breaks down as Mukesh Ambani pays tribute to Dhirubhai Ambani at 40th AGM of Reliance.
There are 78 crore mobile users in India. But a large part of them is not smartphone users.
Jio prime members will continue to get tariff incentives.
Starting March 2017, Jio successfully undertook the largest migration of customers from free service to paid users:
In just 6 months since Jio's launch, data consumption in India went from 20 crores GB to 120 crore GB every month.
India has overtaken US and China in mobile data usage.
Jio adds 7 customers every second.
Jio has acquired 100 million customers in 170 days.
It has been an incredible 10 months for Jio. We have acquired enough customers to justify our Rs 2 lakh crore investment.
Free of cost JioPhone will be available for pre-booking from August 2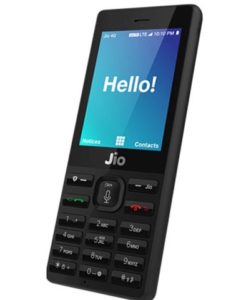 Disadvantages of Jio Phone
in Jio phone, no one can able to use WhatsApp and other applications.
No front Camera in Jio-Phone.
No Video Calling in Jio phone in the modern and 4G revolution area.
No hotspot in Jio phone. No Data share feature available.
No Playstor available in Jio Phone.
Jio phone has own operating system, there is no Android operation system.