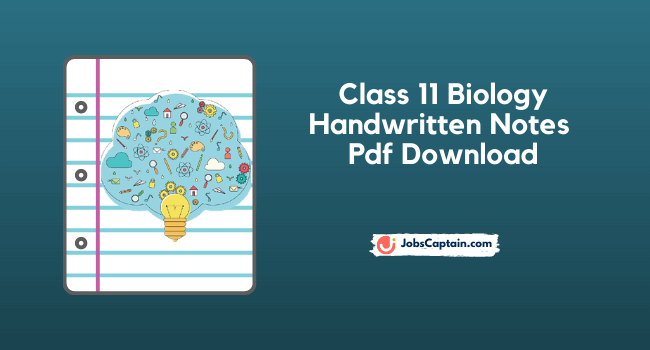 The Class 11 Biology handwritten notes pdf contains a summary of the chapters and a detailed explanation of important concepts. This biology handbook class 11 is best for the quick revision for CBSE and NCERT board examination.
However, Biology handwritten notes in English pdf for NEET is useful for the students who want to build achievements and career by cracking Medical Entrance Exams like NEET.
Class 11 Biology Notes Pdf for NEET explained every Biology topic in very easy language so students can understand every topic and learn the topic in short time.
These notes of Biology class 11 is written by topper students and Biology subject expert teachers. Here students can read online or free download Biology 11 class notes by clicking on the below buttons.
Class 11 Biology Handwritten Notes CBSE (NCERT)
Chapter 1: The Living World
Chapter 2: Biological Classification
Chapter 3: Plant Kingdom
Chapter 4: Animal Kingdom
Chapter 5: Morphology of Flowering Plants
Chapter 6: Anatomy of Flowering Plants
Chapter 7: Structural Organisation in Animals
Chapter 8: Cell: The Unit of Life
Chapter 9: Biomolecules
Chapter 10: Cell Cycle and Cell Division
Chapter 11: Transport in Plants
Chapter 12: Mineral Nutrition
Chapter 13: Photosynthesis in Higher Plants
Chapter 14: Respiration in Plants
Chapter 15: Plant Growth and Development
Chapter 16: Digestion and Absorption
Chapter 17: Breathing and Exchange of Gases
Chapter 18: Body Fluids and Circulation
Chapter 19: Excretory Products and Their Elimination
Chapter 20: Locomotion and Movement
Chapter 21: Neural Control and Coordination
Chapter 22: Chemical Coordination and Integration
If you have any questions regarding Class 11 Biology Pdf. Feel free to ask them in the comments section below. And we will be glad to answer them for you.
Subject wise Pdf Notes Download Links for JEE, NEET and Class 11 & 12 Science
Disclaimer: All Handbook/materials available on the links provided on the site are for educational and study purposes only. We provide the links which are already available on the internet. The content is meant for individual and noncommercial uses only. We don't want to violate any copyright law. These Pdf Notes provided for students who are financially troubled but deserving to learn. Thank you!