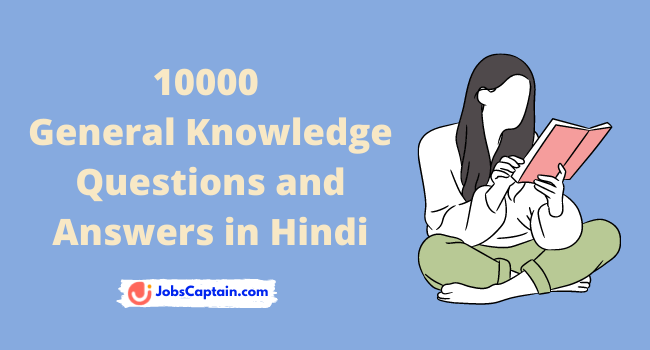 GK in Hindi questions are asked in many competitive exams. In this post, you will get a PDF book of 10000 General Knowledge Questions and Answers.
सरकारी नौकरियों में सफलता सुनिश्चित करने के लिए General knowledge तैयारी आवश्यक है। आज हम आपके साथ साझा कर रहे हैं सामान्य ज्ञान (GK) के विशेष प्रश्न उनके उत्तर PDF Book के साथ जो ज्यादातर प्रतियोगी परीक्षाओं और नौकरी के Interview में पूछे जाते हैं।
We have brought 10000 such objective type questions in Hindi of GK related to subjects like History, Economics, Environment, Politics etc. which can help in the upcoming competitive exams.
| | |
| --- | --- |
| Book Name | 10,000 GK Questions and Answers in Hindi |
| Type of Questions | One Liner, Objective or Multiple Choice Questions (MCQs) |
| Language | Hindi (हिन्दी) |
| Helpful in Exams | SSC, Railway, Banking, Interview, Entrance Exams, UPSC & State PSC, IAS etc. |
Book Content of 10000 GK Questions Book in Hindi
भारतीय राजनीति (Indian Politics)
इतिहास (History)
भूगोल (Geography)
अर्थशास्त्र (Economics)
सामान्य विज्ञान (General Science)
कंप्यूटर विज्ञान (Computer Science)
राष्ट्रीय और अंतर्राष्ट्रीय संगठन (National and International Organisation)
Let's download Most Important 10000 General Knowledge Questions and Answers PDF Books:
10000+ one liner GK questions in Hindi – Download
General Knowledge 10,000 Objective Questions with Answers PDF – Download
300 GK MCQ Questions in Hindi PDF – Download
We hope this article, 10000 General Knowledge Quiz in Hindi is very useful for the students who preparing for various Sarkari exams.
Also Read,
Thank you for reading. Furthermore, if you need additional particular questions with answers then do comment below.